Addressing the Increasing Need for Affordable Health Care
The Increasing Need for Free Health Centers
In 2018, the percentage of American adults without health insurance surged upward, reaching levels not recorded since before President Trump took office, according to a new national survey that revealed widespread coverage losses over the last two years.
At the end of 2018, 13.7% of U.S. adults were uninsured, up from 10.9% at the end of 2016, when President Obama was completing his second term.
According to a survey by Gallop, this new data represents the highest uninsured rate since the beginning of 2014, when the Affordable Care Act began providing billions of dollars in aid to help low- and middle-income Americans get covered. The new report also indicates that some 7 million American adults have likely lost or dropped coverage since 2016.
Lower income adults pay a higher ratio of their income for care; and there is a greater likelihood that easily treatable ailments will go untreated and become serious medical problems. These people are not necessarily unemployed; they are the working poor —restaurant staff, small business owners, day laborers, artists, and housecleaners, often working multiple jobs. Ultimately the costs are borne by everyone, they are passed along in terms of lost work hours, higher health insurance costs, and greater community health risks.
Our community cannot be healthy if a significant portion of the population is excluded from basic medical services. Concerned citizens need to find other ways to provide the medically under-served with the health care services they lack. Creating a free health center was not simply the ethical course of action, it was the pragmatic course of action which the Oneonta Community Health Center undertook over ten years ago. Read More
Our History
In 2005, the Unitarian Universalist Society of Oneonta, New York (UUSO), as part of a long-range plan to improve the community, identified the need for a free health clinic for those challenged with health care and insurance costs. UUSO member, Dr. Benjamin Friedell spearheaded the project which began with extensive research and detailed planning by a committee. After about 2 years of preparation, they opened a free primary health care center–the Oneonta Community Health Center (OCHC).
The initial meeting of the founding Board of OCHC was in 2007. Bylaws, mission and a vision statements for the non-profit in planning were created. State and local health laws and requirements were studied. After consulting with three other free clinics (as well as Fox Hospital CEO John Remillard, it was decided to not to become an Article 28 facility, which required the same standards as hospitals, and instead opt to have the individual providers practice under their own licensure and malpractice insurance, with the "Friends of Oneonta Community Health Center, Inc." as the name of the 501 (c) (3) providing the board of directors oversight of the facility operations, staff and fundraising.
A public meeting at the UUSO was held to explain the project and seek financial and operational support from the community. With tremendous local support, it was decided to establish a community health center, not publicly identifying it as an offshoot of the UUSO. To survive the health center would need the volunteer and financial support of the greater Oneonta community, not just the UUSO.
Serendipitously, a local midwife who fully furnished health facility on the first floor of her house, needed to relocate to another state. She offered the house to the OCHC for zero rent for the first year and only asked that the utilities be paid. The location of the house on Academy Street was ideal, and the center opened July 29, 2008 and remained there for several years until the house was sold.
During the search for a new location, Fox Hospital provided space for suite which was used for other purposes during the day. OCHC moved into its current location on Main Street in 2012.
In 2013 OCHC began to provide dental services through FoxCare Dental Associates to our patients whose health was at risk because of serious dental problems. In 2010 the Affordable Care Act (ACA also known as Obamacare"), the comprehensive health care reform law was enacted. The ACA had a downward effect on the number of patients the center served. Still, according to US Census Bureau, 2014 the percentage of adults (aged 18-64) without health insurance in Otsego County was 12% and in Delaware County was 16%. The Opportunities for Otsego 2017 Community Needs Assessment Survey reported that the Otsego County population without medical insurance is 2,546 individuals (age 18 – 64).
One of the ongoing challenges for OCHC to continue to provide free Primary Healthcare, is to continue spread the word about our services through marketing efforts and networking with other health and social service providers who can refer patients to our services. Increasing support from institutional and individual donors is also vital to continue free health services.
The Board of Directors of OCHC have recently been working on a strategic plan that includes marketing strategies and research to explore other health care services that could be incorporated into our mission to best serve the needs of the greater Oneonta area.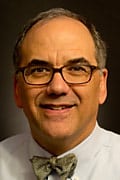 OCHC's MEDICAL DIRECTOR
Dr. Benjamin N. Friedell has been a practicing family physician in the Oneonta area for 35 years. He had long recognized the need for a free medical clinic in the area, as there have always been people without health insurance who defer seeing a doctor due to lack of funds. He was instrumental in starting this health center in 2008 and has been very impressed and thankful for the financial and volunteer support from the community that has made it possible to fulfill the mission of the Center.
ABOUT US
BOARD OF DIRECTORS
Ann Adamo, RD
Julie Andrews, NP
Scott J. Bonderoff
Benjamin Friedell, MD (Ex Officio)
Stanley Fox, DO
Susan Kenny
Michelle Lopez
Meredith Rider, RN
Otto Rothermel

OFFICERS

Otto Rothermel: Chair
Ann Adamo: Secretary
Meredith Rider: Treasurer
STAFF
Benjamin Friedell, MD: Medical Director
Elaine Wood, RN, Clinic Coordinator
Joan Ricker, Office Coordinator
Volunteer medical providers:
Ann Adamo, Registered Dietician
James Dalton, MD
Patty Jacobs, FNP
Stanley Fox, DO
Ben Friedell, MD
Tristan Sharratt, NP
Bishesh Shrestha, MD

We are proud members of Volunteers in Medicine
Articles of interest from the press:
One in ten Americans are still uninsured.
Our Annual Report and Financial Report

FOCHC Annual Report FY 2020 2021